Now that Shopit is integrated with eBay, it's important that our customers make the most of the global platform.
eBay users total 182 million around the world, with 1.4 billion products for sale at any one time.
Here, Shopit Partner Laura Mathieson of Selling Online Support delivers her Top 6 Tips on improving eBay sales – strategies that have seen her clients increase sales by an average of 22% for established businesses.
Are you missing out?
eBay UK accounts for 10% of all eCommerce sales in the UK, second only to Amazon.
There are over 1,000 eBay millionaires in the UK
24 million British people visit eBay UK every month
A makeup product is purchased every 2 seconds, a car part every second, a video game every 6 seconds
200,000 small businesses sell on eBay – could yours be one of them?
But I already sell on Amazon, surely that's enough?
Amazon outsells eBay significantly, but on the whole buyers are loyal to either Amazon OR eBay. Buyers have different priorities and preferences which is why they favour one platform over the other. This means that there are separate groups who mainly buy on eBay OR Amazon, so if you sell your products only on Amazon you are not reaching those 24 million people using eBay UK EVERY MONTH.
Isn't it a lot of extra work and expense?
Actually if you are already selling online much of the initial setup is in place – you will already have suitable images, descriptions, shipping options etc which can usually be reused on eBay. 
Although it is important to monitor and adjust listings and practices as eBay introduces changes, the bulk of the expense is in the initial setup, much as it is on Amazon.
I sell new products – eBay is just second hand bric a brac isn't it?
eBay started out as an online car boot sale auction site – but it's changed dramatically since it reached the UK 21 years ago. Very few items are sold at auction nowadays, and 80% of sales are of new items. Among the mainstream sellers trading briskly on eBay you will find Dolce & Gabbana, Argos, Currys and Hotpoint.
Here at Selling Online Support we do also help sellers trading on Amazon, Etsy and their own websites, but our main area of expertise is eBay, because it is the most complex platform to figure out.
If you are going to dip your toe into selling on eBay, here's our Top Six tips to help you maximise sales on eBay:
Tip One – PAY ATTENTION TO TITLES
Titles remain the single most important element of an eBay listing. From a technical point of view they are coded as H1, which means that the search engines (Cassini, within eBay, as well as Google and other search engines) will give more weight to the words in the title than any other place on the page.
More specifically, you need to use the Keywords that buyers are using to find your products. An important point about titles is that you want to cast your net wide -if you add in as many keywords as possible you will reach a higher percentage of potential buyers.
Tip Two – GET YOUR CATEGORIES RIGHT
To really understand why categories are important we need to use eBay the way buyers do. They go to the home page, type in a few words and hit search. eBay then returns a list of items for them to choose from. Now what many buyers don't realise is that eBay often pre filters the search results – to make the buying experience better eBay will select items in the most relevant category, and that is not always an obvious choice. If your products are in a category that eBay thinks is not optimal, your products may not be shown to the buyer at all.
Here's an example – a search for "Lego Storage Box" does not default to the "Storage Box" category, but the Lego Toys category: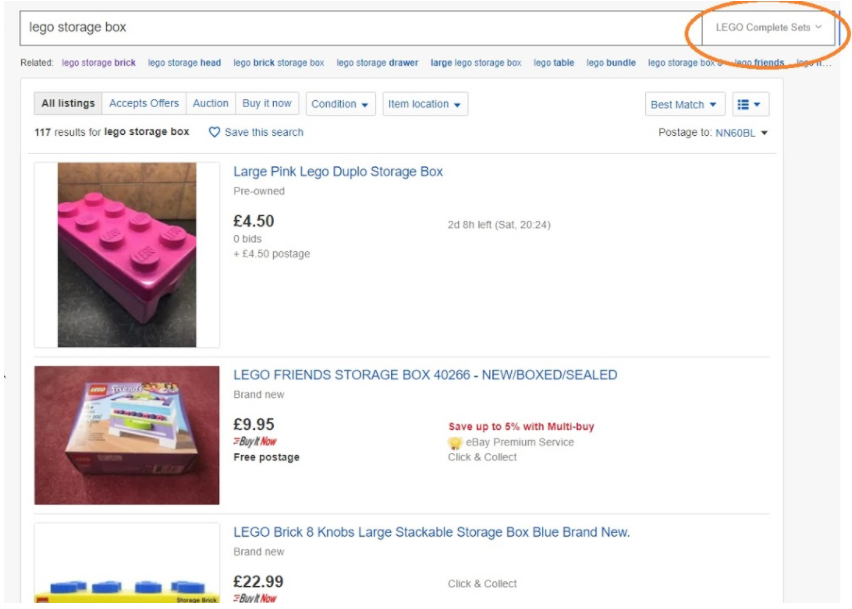 Tip Three – ALWAYS USE GREAT IMAGES
Strictly speaking, good images won't have a big impact on Cassini, unless buyers are searching using an image – then it becomes very important to have a clean photo with no added text or logos. However to achieve good sales you need to please both Bay and the buyers – and the buyers love good images – they expect them.
eBay, along with the Internet generally, prefers plain white backgrounds. And as 60% of sales on eBay are made on mobile devices, mostly smartphones, this means that the images are very small when viewed, so the Main Gallery image needs to be plain and clear without confusing buyers with props – like this: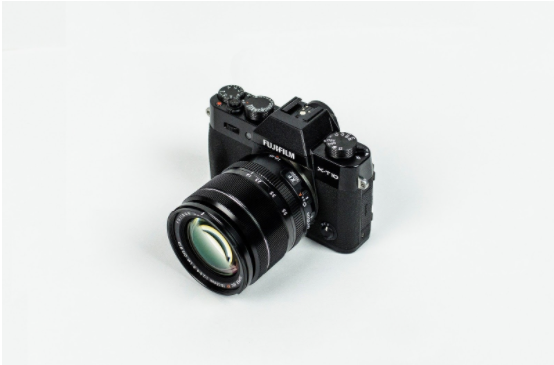 Further reading: How do shipping options impact your sales?
Having a well-executed shipping plan is key to success in eCommerce. When it's put to the test during busy periods like holidays, unfulfilled orders, expensive costs, and wrong items shipped bring it right to the forefront of your customer experience.
Tip Four – DETAIL YOUR ITEM SPECIFICS
Item specifics are the extra information which eBay asks for when you create a listing.
If you are selling, for instance, a vitamin C powder, when you create the listing you will be presented with some fields to complete.eBay may ask you if you want to update your listing, based on keywords you add into your title.
And why are these necessary? Why does eBay ask for them?
The simple answer is that buyers refine their searches using Item Specifics. They select from the options given – if you have not completed the field, you will not be in the refined search results.
As a general rule, when creating a listing, if eBay asks for information it will use it.
Item specifics options are shown ringed in the example below: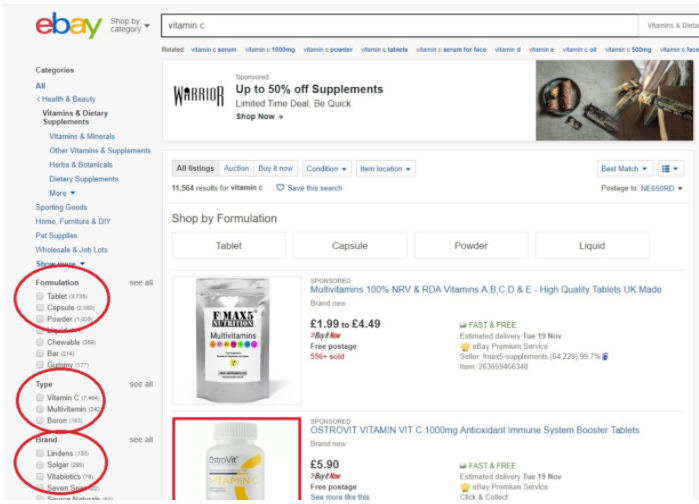 Tip Five – USE YOUR PROMOTIONS WELL
Promotions cover much more than Promoted Listings. Promoted Listings are similar to PPC, a type of advertising where a fee is paid every time a listing is clicked or purchased.
There are also opportunities to promote your business on eBay through the following:
Promoted Listings
Best Offer
Send offer to Watchers
Multi-Buy
Sale Event
Order Discounts
Codeless Coupons
Email Marketing
Auctions
Tip Five – SELLER METRICS
Seller Metrics, your level of seller status, can be found through the Seller Hub on eBay. It shows both your current status, and your upcoming status – this is evaluated around the 20th of every month. In the example below we can see that this seller is currently Top Rated, but is set to drop to Above Standard shortly.
There are only 3 levels:
Top Rated
Above Standard
Below Standard
Being Top Rated will usually give you a boost in search results, and the opportunity to save money on fees through the Premium Service Badge, but it's the Below Standard status you need to be really wary of. This will result in dramatic drops in search results and additional fees, so it needs to be avoided.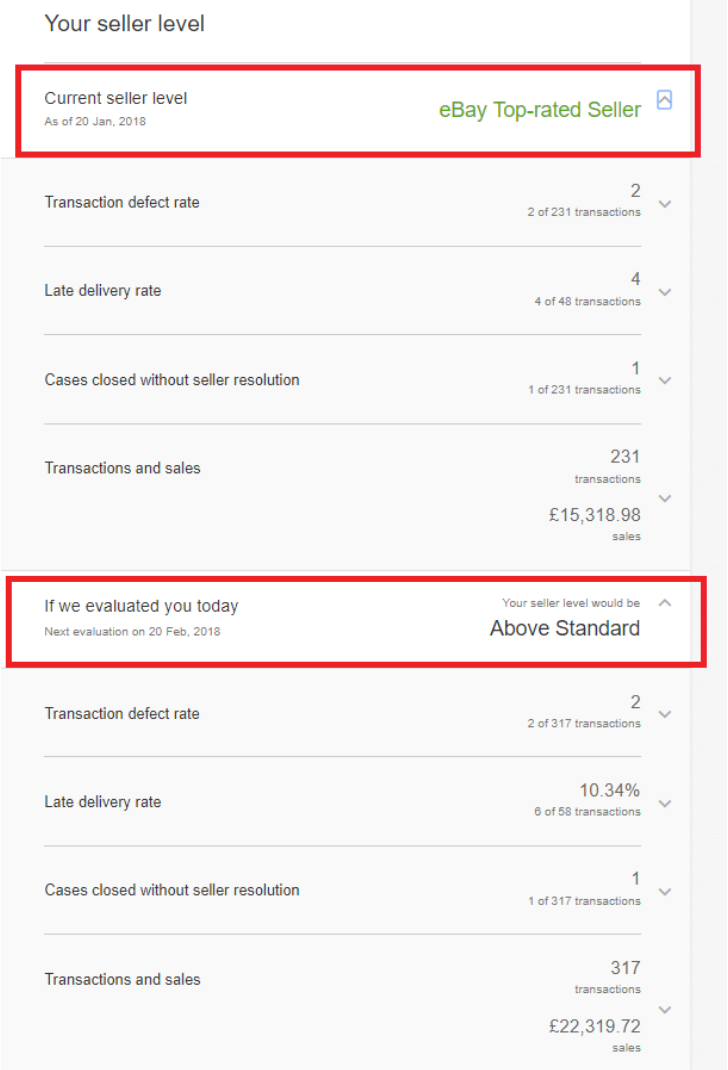 In Summary
These are the main points to focus on when getting started on eBay, but in order to really be successful you need to do everything correctly. We see 90% of sellers who do not do everything correctly – and that means there is an opportunity for you to challenge the established sellers.
Starting or increasing sales on eBay is a logical next step for any online seller, and we have services and packages to suit every business requirement, from audits to optimising to development and management – whatever your business needs we can help.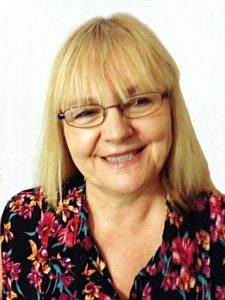 Laura Mathieson
MD, Selling Online Support
Get in touch now to discuss how we can best help you:
Phone on 07595 456 127 or
email us on info@selling-online-support.com

Surahi Deacon
Surahi believes in that good people, good processes and structure produce great companies.
With a keen interest in globalisation and personalisation, she writes about the opportunities for growth to everyone