Save 50 – 80% on your platform costs
Shopit gives EVERY customer enterprise level features – unlimited sites, lowest gateway fees and everything to manage the entire eCommerce business.
Save money by only paying for your traffic – saving 30-80% on an equivalent set of features from Shopify, BigCommerce, Wix and more
Every feature for every user from day one.
Build your empire, then simply pay as you grow!
Small
Growing
Medium
Large
Estimated Visits /mth
1000
5000
15000
50000
Maximum Monthly Price
£20
£50
£125
£500
Feature Set
Unlimited
Unlimited
Unlimited
Unlimited
Free Trial (days)
30
30
30
30
Core Features Available from Day One
Selling Online
Online Stores
Unlimited
Unlimited
Unlimited
Unlimited
Stock Locations
Unlimited
Unlimited
Unlimited
Unlimited
Staff Accounts
Unlimited
Unlimited
Unlimited
Unlimited
Unlimited Products

✔

✔

✔

✔

Free SSL certificate

✔

✔

✔

✔

Payment Gateways
Native gateway (no development needed)

✔

✔

✔

✔

Online Credit Card Rates Compare
1.0% + 10p
1.0% + 10p
1.0% + 10p
1.0% + 10p
Third Party Gateway Surcharges (e.g. Paypal)
0%
0%
0%
0%
 
Transaction Fees
0%
0%
0%
0%
 
Store Management
Custom User Workflows

✔

✔

✔

✔

Supplier Reordering

✔

✔

✔

✔

Product Prioritisation

✔

✔

✔

✔

Build an Order

✔

✔

✔

✔

Discount Management

✔

✔

✔

✔

Easy Stock Transfer

✔

✔

✔

✔

Advanced Reporting

✔

✔

✔

✔

Fully Editable Templates

✔

✔

✔

✔

Native Blog

✔

✔

✔

✔

B2B Specific Features
Estimates/Proforma Invoices

✔

✔

✔

✔

Approve Customer Accounts

✔

✔

✔

✔

Volume Discounts

✔

✔

✔

✔

Allow 30 Day 'On Account' Payments

✔

✔

✔

✔

Supplier Reordering

✔

✔

✔

✔

Technical
Choice of Hosting Location

✔

✔

✔

✔

Autoscale Hosting

✔

✔

✔

✔

Open API Access

✔

✔

✔

✔
Access to every feature that we develop
Greater Functionality
Xpose are creating multiple B2B and B2C sites on Shopit having had their WooCommerce site hacked and run slow.
Access to every feature that we develop
Better Usability & Sales
London Shoeshine found Shopit easier to use then WooCommerce and plan to open multiple sites.
Access to every feature we develop
68% Cost Saving
Chiropody Express upgraded to Shopit for more features including create multiple market niche sites
Features
Our Customers get all this
How does it work?
We believe in a different way.
Levelling the playing field
First of all we give you everything. Every feature you need to drive forward. Then we simply bill for resource use. That comprises the database size and the bandwidth – your products plus traffic.
How do Shopit costs compare?
Shopit customers pay significantly less when websites are quieter – for example the middle of the night – thereby saving you money for sales and marketing campaigns, or buying stock. Even during the day, our subscription costs are lower than our key rivals.
With other platforms you are paying fixed hosting and licence fees whether anyone is using the platform or not.
Pricing Innovation
Major eCommerce platforms like Shopify, EKM and LinnWorks have long profited from limiting users in functionality and forcing them to upgrade to get any kind of real feature set.
Supporting you all the way
Shopit will always give every single one of our customers the full feature set available from day one of trading, so that each business has a full tool kit to take on the world.
Whether it's custom order statuses, multiple product variations, customisable search filters, or multi location stock management, image crunching or real-time price comparisons – if we've built it, you can play with it.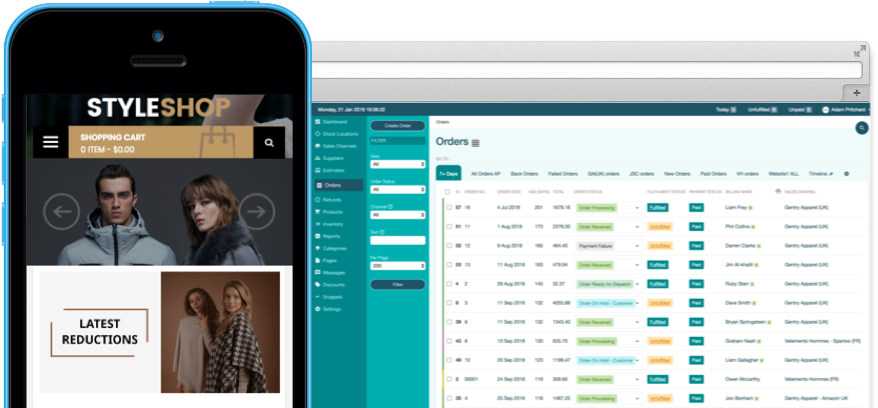 Extend your sales reach
Groundbreaking Payments
Stay focused on your core activities and let the technology work for you. Manage your multichannel sales activities easily in less time.
Every entrepreneur and online retailer needs a cost-effective eCommerce solution. With Shopit you have your finger on the pulse of everything with inclusive smart reporting, stock management and plenty of marketing tools to drive your business forward.
How does the free trial work?
Every customer that signs up for their 30 day free trial can test and play with every feature that Shopit develops. Once live, those features continue to be available to everyone on a Pay as you Grow basis. 
How often do you release new features?
Our team are constantly building new features to add to the Shopit platform – shipping integrations, marketplace integrations, new design templates and more. Sometimes it's 2 per month, sometimes it's 10.
Do you offer custom feature development?
We welcome any new idea that will help your business, and once developed, release it as a core module. Whether it's improving speed, stock management, or security, we believe in continual improvements
Can I cancel at any time?
Yes. If you decide you want to cancel your account you can do easily by contacting the team by email, and we will immediately cancel your account with no questions asked.
We're a B2B business - can you help us?
Shopit includes a number of B2B features available to all including: estimates/proformas, 30 day account payments, approved customers, volume discounting and more. 
What if I get stuck?
Every new client has the opportunity of a free onboarding walkthough of each feature. We also offer standard and extended support contracts for those who demand more.